About Amos Zittel & Sons, Inc.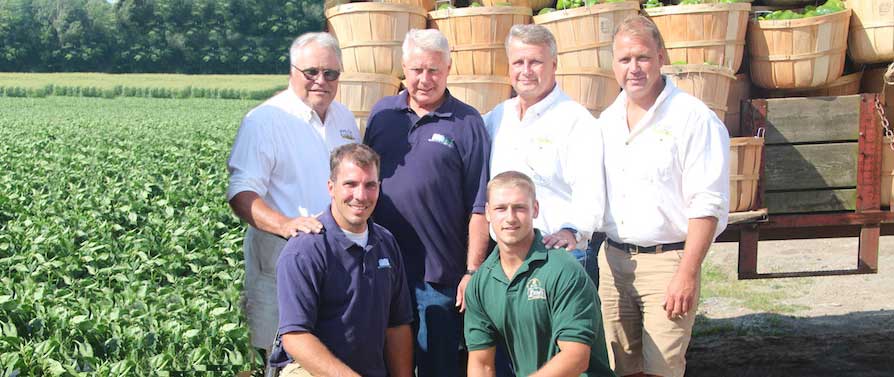 Meet the Zittel Farmers  – 100 Years and Growing!
Paul, George, Bill, David, Kevin, Evan
The Zittels have been farming in Eden Valley since 1897 when George Zittel left his father's East Eden Dairy farm to buy land in Eden Valley. The farm was sold to his son Amos in 1934, who sold it to his sons George and Paul in 1964. The farm was incorporated 12 years later in 1976. Presently they each have  sons and a grandson back in the business. Today, George, Paul, Bill, David, and Kevin and 5th generation Evan all work together.
Amos Zittel & Sons consists of 2 main businesses: Fresh market vegetable production and greenhouse production. 
Presently, we are producing vegetables on approximately 400 acres. These include Lettuce (Green Leaf, Red Leaf, Boston & Romaine), Strawberries, Peppers, Cabbage, Sweet Corn, Tomatoes, Broccoli, Eggplant, Squash, Brussel Sprouts and Grape Tomatoes. 95% of our produce is sold through our marketing co-op, Eden Valley Growers, founded by Amos and other farmers in the valley in 1957.
Our greenhouse operation  consists of an unfinished crop of geraniums, ivy, fuchsia, vegetative spring plants liners, primarily marketed through Ball Seed Co.,  Eason  Horticultural Resources and SHS Griffin, and a finished crop of spring annuals sold directly to WNY Garden Centers and Nurseries. We produce approximately 2 million rooted liners and grow 4 acres of finished spring crop.
Our farm uses the most innovative cultural practices including trickle irrigation, plastic mulches and integrated pest management to maximize quality and production and minimize pesticide usage and conserve water. Within our IPM program, we hire scouts to provide weekly reports that together with pest minder trap counts and other data, our managers can determine when and what we need to spray to minimize chemical usage.
In addition, our farm families feel strongly about setting up the business operation so it may be fairly and equitably passed on from one generation to the next. We have successfully welcomed the 5th generation into the business .
FARM LOCATION
Eden Farm Office
3275 Webster Road
Eden, NY 14057
Mon-Fri 8am-5pm
Sat 8am-12pm